Every year our range of marquees expands, we now cover from 5m bell tents to our one-off cathedral marquee suitable for dinner dances for 2500 people. To help our customers understand the difference in all these marquees we have provided this guide. We do think it is worth the time spent understanding your marquee, as it will help with your planning for a snag free event. We are always on hand to help with advice either by phone or email. You can always speak to one of our lovely team in the office; Natalie, Jake or Gabe.
Sometimes for site specific questions we will suggest you speak to one of our team leaders, Such as Gabe, Neal, Josh, Mike or Rich. We are always happy to help and believe that your ability to contact us is one of our core values. We know planning an event is difficult enough so  do our best to reply in as timely a manner as possible.
You can see how your proposed marquee would fit into an overall plan by playing with our marquee planner. Send it into us and we will provide feedback based on our experience.
PVC Traditional
Perfect for any country setting, our PVC traditional marquees are a beautiful option for your celebration. Featuring centre and side pole, they are suitable for construction on grass and help you to create the event setting you've been dreaming of. The walls and windows around the marquee can be removed to suit your individual situation. So, if a hot Summer's day calls for al fresco dining and garden relaxation, they'll still offer shade protection while allowing guests to breathe in the fresh, country air. As with all of our marquees, the PVC traditional style can be personalised. The versatile design sits well both with and without lining and can be filled with any selection of our furniture options. The cloth walls are easily cleaned and maintained by our expert team. This ensures that your marquee will always arrive with you in pristine condition as if brand new just for your specific event. Working within any budget, they are a cost-effective and equally stunning option for any outdoor party, wedding or corporate event. Please note that our PVC traditional marquees require 4′ around each side for guy ropes. Our team will be on hand to provide advice regarding your site and it's suitability for this style of marquees.
Sizes available: 6m, 9m, 12, and 15m widths
Lengths go up in 3m bays
Maximum lengths over 100m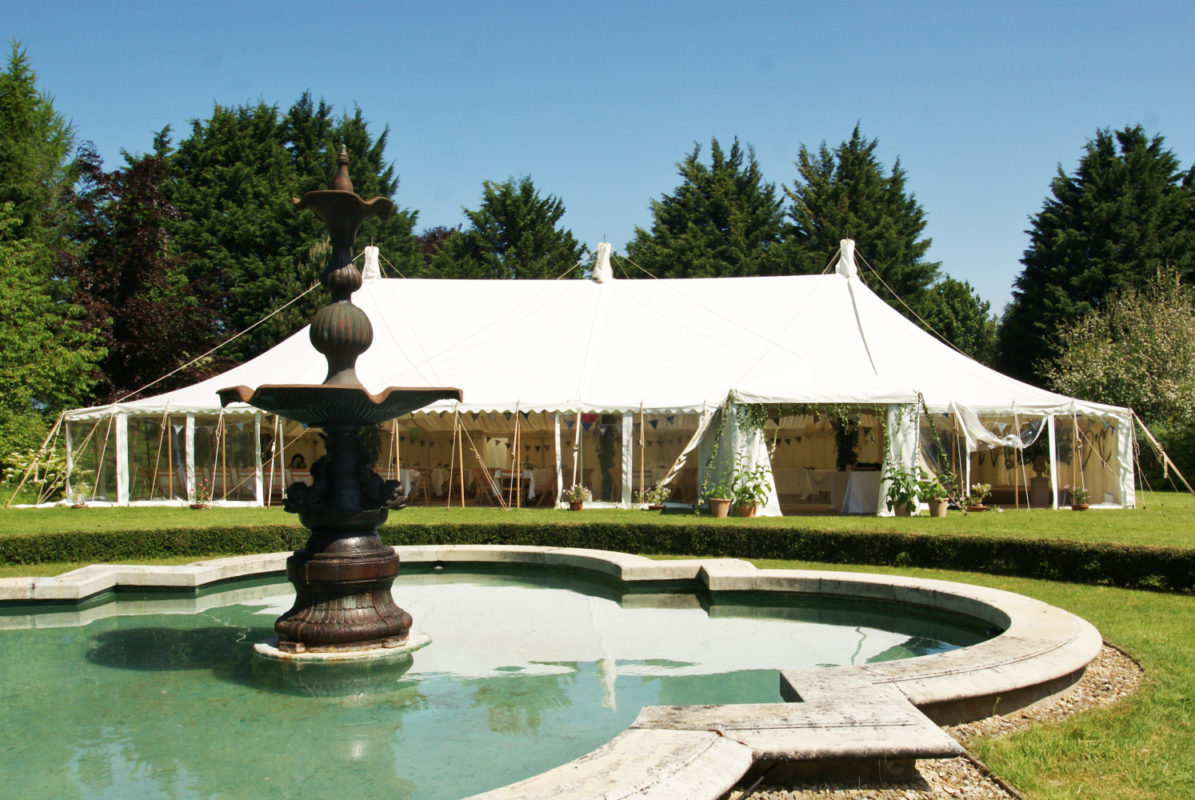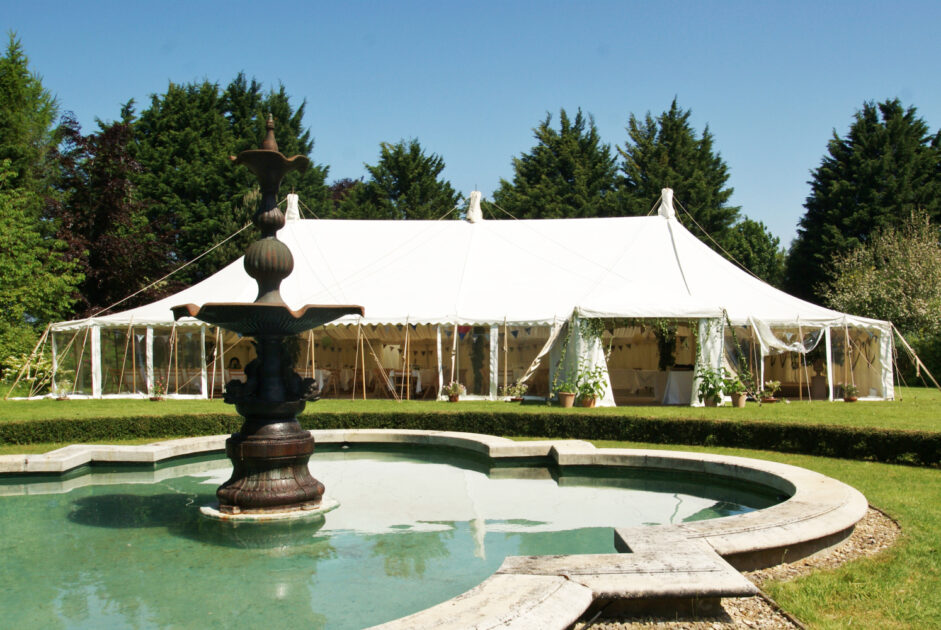 Canvas Effect Traditional
Another classic option for countryside settings, our Canvas Effect Traditional Marquees are an elegant choice. The slightly warmer PVC cloth has been chosen to simulate canvas and create a rustic theme. In turn, it also has a textured finish to further enhance this illusion while remaining a cost-effective option for any budget. Varnished wood centre and side poles add a sense of luxury and class to the interior and act as inspiration for your furniture choices. If you're looking to further enhance the inside of your marquee, this style can be decorated both with or without one of our lining options. The large interior space gives you a wide scope to create dedicated seating areas, relaxation spots and even a buzzing dance floor. Designed to be set up on grass, our team can remove the walls and windows, if required. This allows guests to fully appreciate the beauty of their surroundings and affords you more space. Your marquee will arrive with you in pristine condition and maintained in this way due to the easy cleaning nature of PVC cloth. Please note, the canvas effect traditional marquee require 4′ around every side to allow for the guy rope installation.
Width: 12m
Lengths available: 12m, 18m or 24m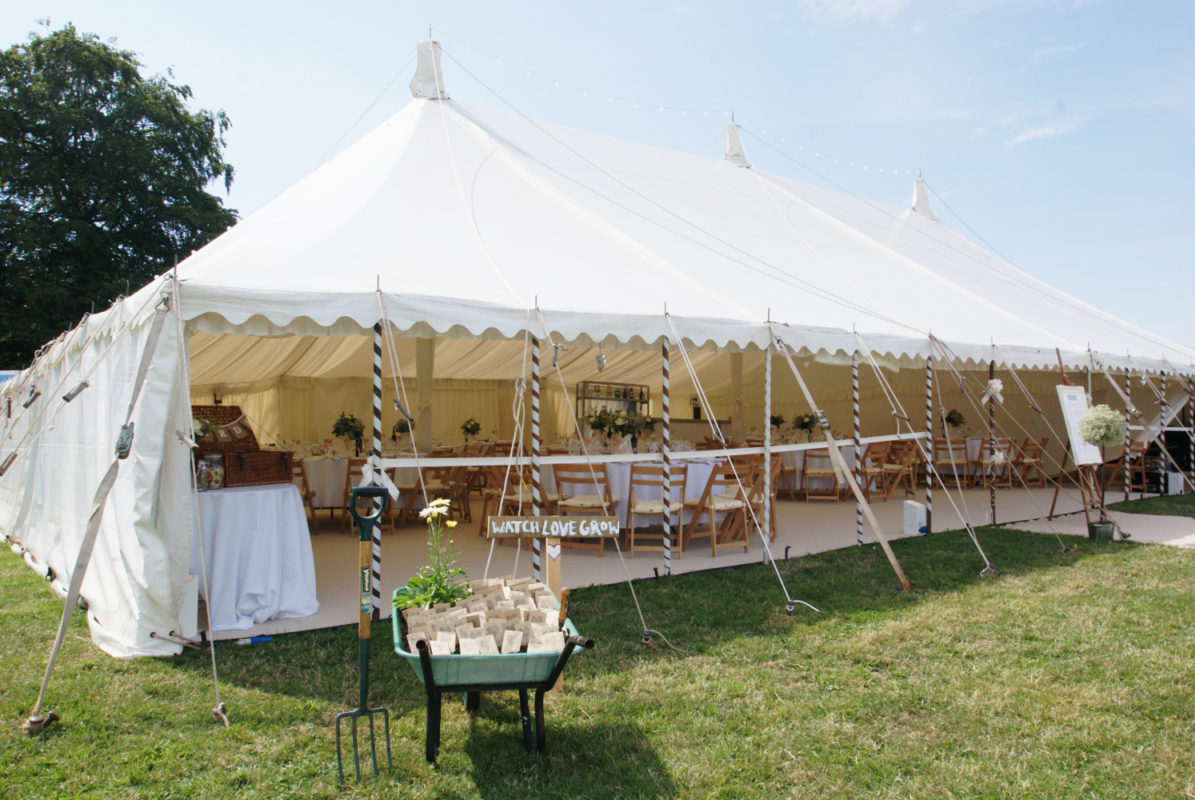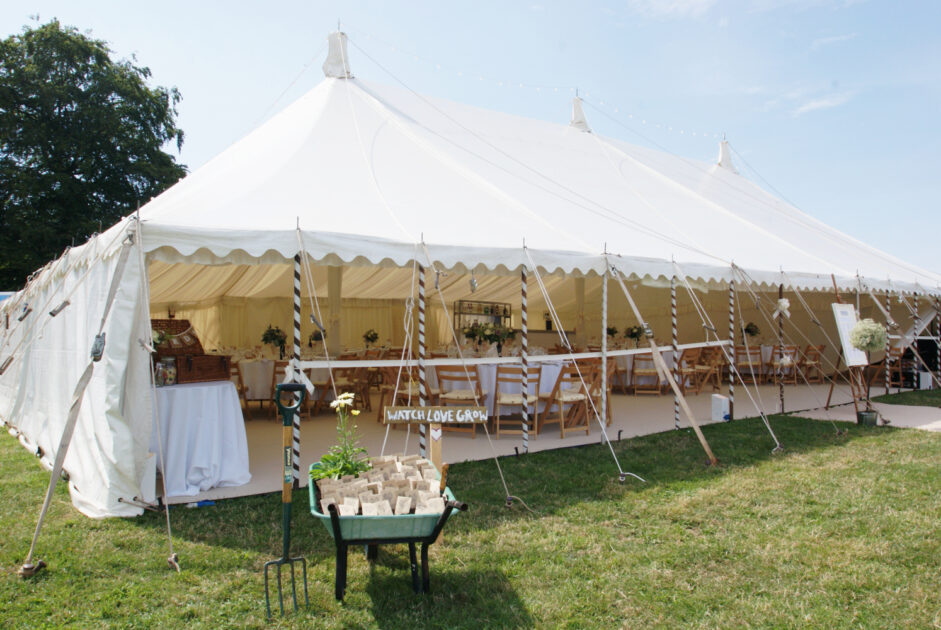 Canvas Traditional
The image most people picture when they think of a marquee, our Canvas Traditional style boasts beautiful, classic lines. The real cotton canvas cloth is entirely waterproof and provides shelter for your guests throughout all different weather conditions. Varnished wood centre and side poles offer a sense of luxury and allow you to create the elegant interior your event requires. The roof of a canvas traditional marquee is one of its shining factors. With beautiful drop ridge lines and a scalloped valance, it works well with country settings and is a popular choice for weddings too. Inside, the marquee can be decorated both with or without linings to suit your needs. Furniture can be used in the vast space to create dedicated areas or simply to ensure your guests enjoy every moment. This one-of-a-kind marquee has been crafted for the most important events in your life and can be personalised by removing walls and windows to your requirements. Suitable for setting up on grass, it offers a beautiful setting for any celebration and one that everyone is sure to appreciate. For safety and proper installation, please note this marquee style required 6′ around every size for the guy ropes.
Width: 12m
Lengths available: 12m, 18m and 24m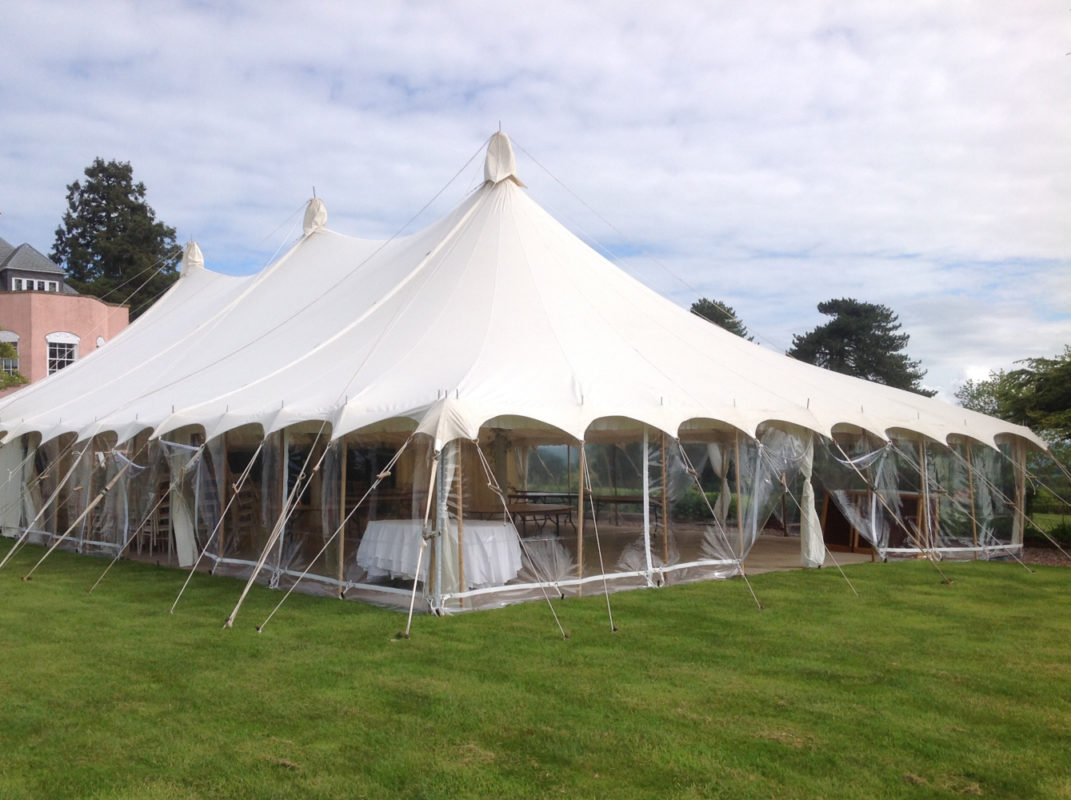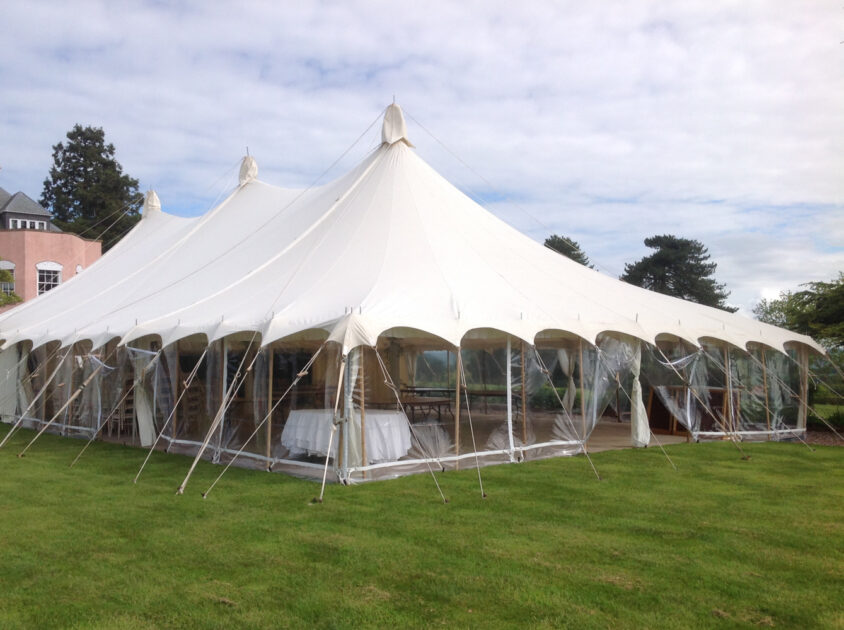 Frame - Clearspan
No matter your setting, our Frame / Clearspan marquees are a highly versatile choice. They can be installed and secured using a variety of different options, allowing them to be set up on sporting pitches or grass fields alike. With no centre poles or guy ropes, this style of marquee provides a large and open interior space. Using furniture, this can be transformed into an entirely unique celebration location for everything from weddings through to sporting events and corporate meetings. The durable construction of our frame or clearspan marquees makes them the most suitable choice for Winter functions. Exceptional weather resistance ensures your guests will stay dry and comfortable throughout the entire event while enjoying your bespoke atmosphere. If the weather warms up, its walls and windows can be opened up using a sliding curtain pole, meaning you're not restricted to your options throughout the day. For weddings and parties, we recommend dressing your marquee with one of our linings. However, this style can also be used without linings, if this suits your needs more specifically. No matter your event, the flexibility of our frame or clearspan marquees allows them to blend in easily and offer everything you need for your guests.
Widths available: 3m, 6m, 9m, 12m or 15m
Lengths go up in 3m bays
Max lengths over 100m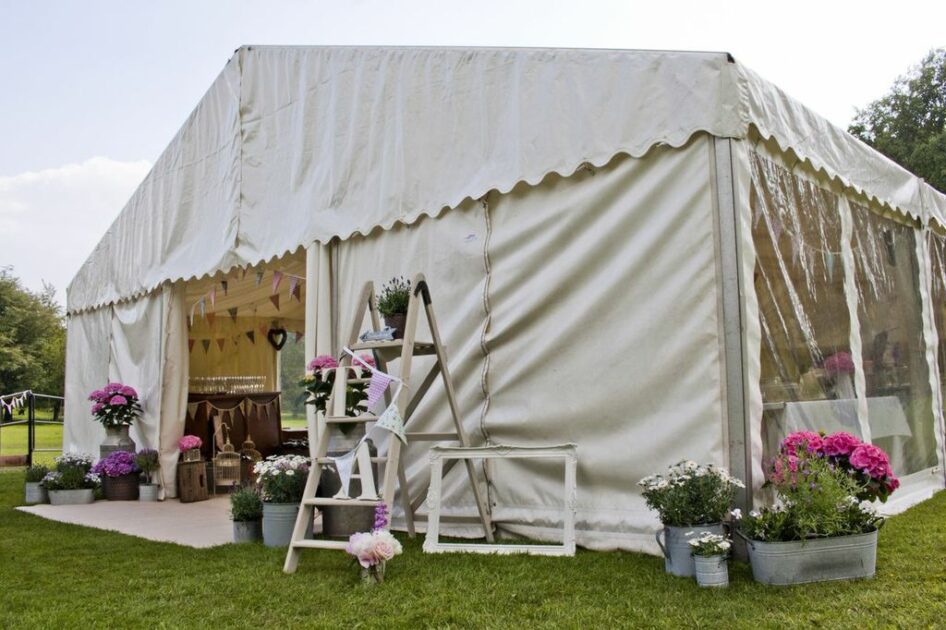 Traditional Cathedral Marquee
If you're expecting a large number of guests, our Traditional Cathedral Marquee could be the ideal solution. It is constructed from our 15m wide traditional PVC marquees. Set up in a 'T' shape, our expert team ensure there are no visible joins or gutters, creating a free-flowing and aesthetically pleasing marquee. As this style boasts a 22′ ridge height in every direction, it allows you to place your seating areas in a central location. Specifically for weddings, this affords every guest great views of their surroundings and all their loved ones in one place. This style of marquee is ideal for accommodating large numbers of people without the need for heavy plant equipment. Inside, the wide and spacious area created allows you to design the perfect event. We also provide high-quality furniture hire which can be effortlessly styled into this space to build individual areas for dining, speeches and dancing. This style of marquee can be styled with or without linings. A unique, one-off-design, our traditional cathedral style helps to create an event and/or celebration that everyone will remember for many years to come. Whether you've got 100 or 1,000 guests, they can be constructed and styled for comfort.
Suitable for seating from 200 to 2000 people cabaret style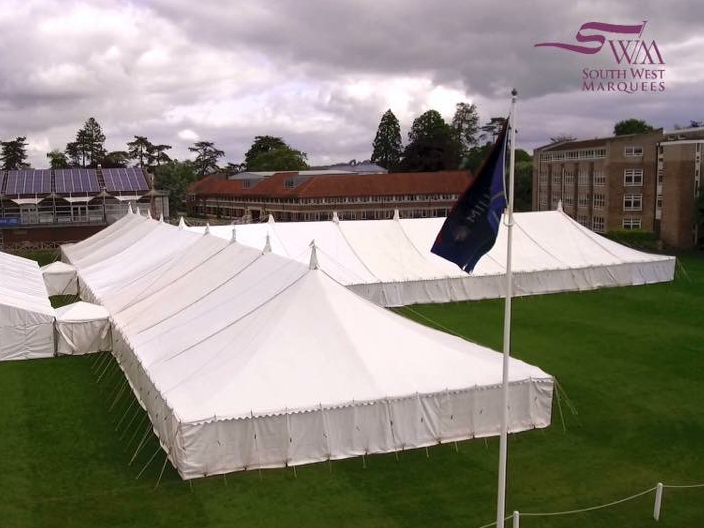 Bedouin Stretch Tent
If it's a unique style you're looking for, our Bedouin Stretch Tents are sure to delight. Entirely flexible and able to be personalised to your requirements, they consist of a large stretched roof that offers shade to your entire event location. The versatility of their design allows them to be personalised into different shapes and to suit the area of your celebration easily. This style of marquee is less formal than our traditional options, making it suitable for Summer fetes, sporting events or casual gatherings. Without the need for doors or windows, they are an ideal choice for warmer days and allows your guests to enjoy the great outdoors. There is no need for lining here which works well within restricted budgets. And, if required, furniture can still be hired to fill the covered space and provide comfort to every single guest. From the minute they turn up, the floating silhouette is sure to bring a smile to the face of all. And, the soft fawn colour blends in elegantly with your countryside surroundings. For events that need to stand out or ones which are required to fit a specific brand briefing, our Bedouin stretch tents provide a unique and bespoke alternative.
Dimensions: 10.5m x 15m with all sides up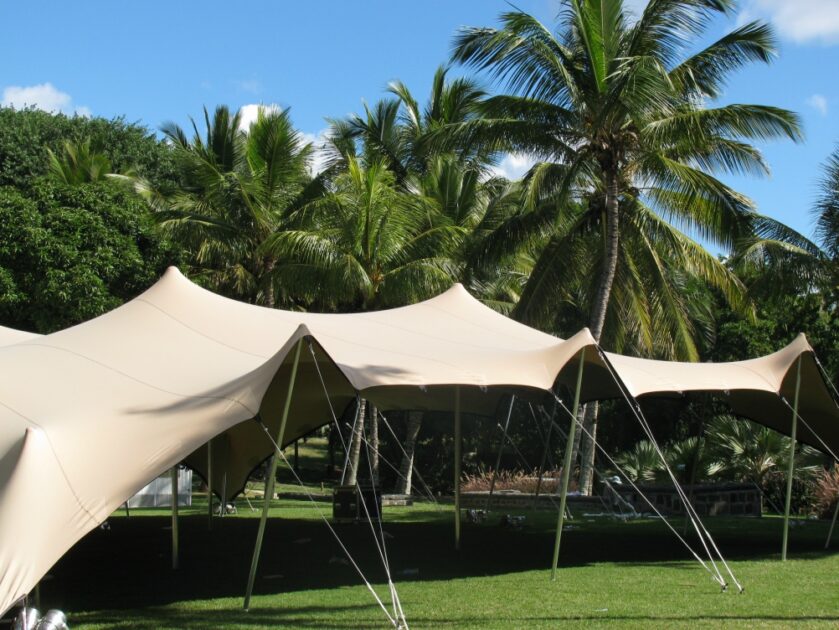 Giant Hat Tipi
Our Giant Hat Tipi's are a striking option. With their eye-catching pointed design, these spacious marquees have a Nordic Tipi silhouette. The soft fawn colour blends effortlessly into countryside surroundings and offers both an elegant and rustic theme, depending on your interior dressings. Ideal for weddings, corporate events and parties, they feature a natural timber frame. This provides stability while also offering inspiration for the furniture and dressings you choose. Each of the sides can be lifted to alter the space provided and, for larger celebrations, multiple tipis can be joined together. The versatile designs allow you to create an outdoor space that offers everything your event needs. Guests are privy to clear views of their surroundings while ample cover allows them to take shade from the harsh sun or light showers. Using our range of furniture for hire, the interior space can be dressed to provide dedicated areas for seating, dining and dancing. Consider adding lighting around the entrance to create a magical wonderland. Or choose ambient lighting which glows as the light outside begins to darken. The high ceiling heights in these giant hat tipis also offers an additional styling area where decorations can be suspended above your guests throughout the evening.
10m diameter
Multiple tipis can be joined together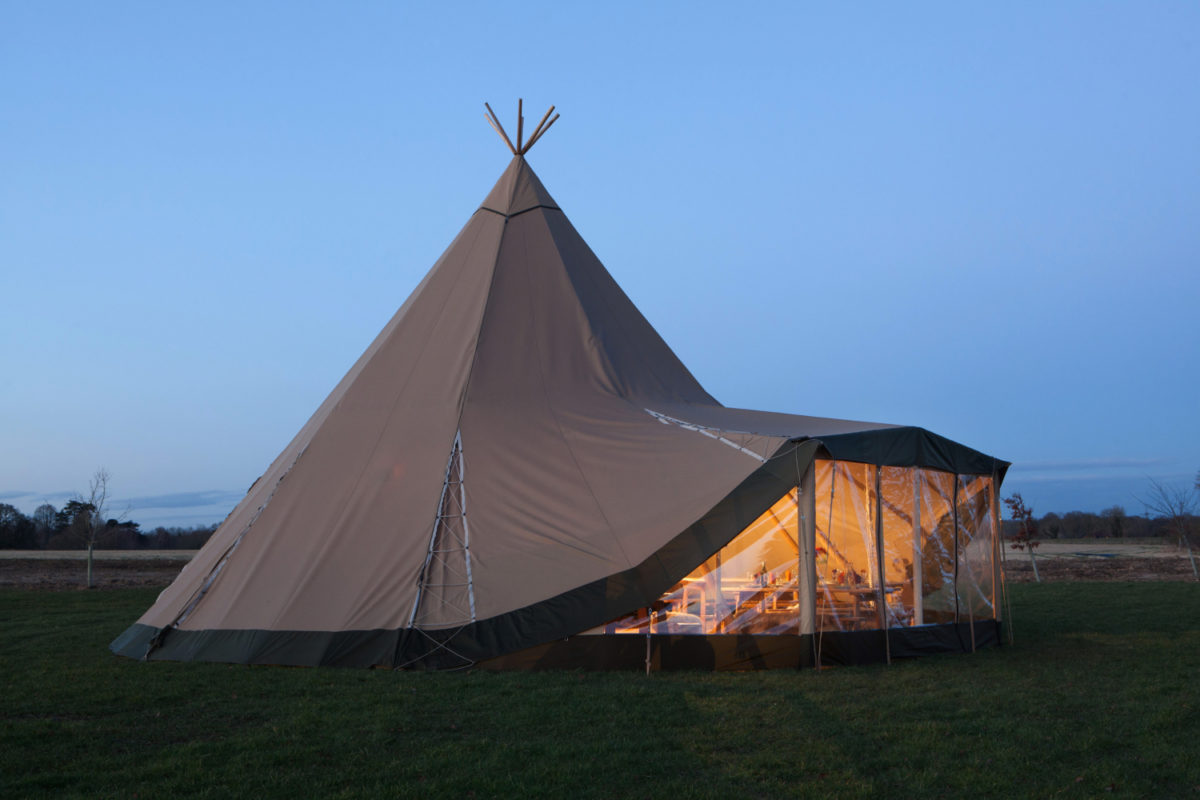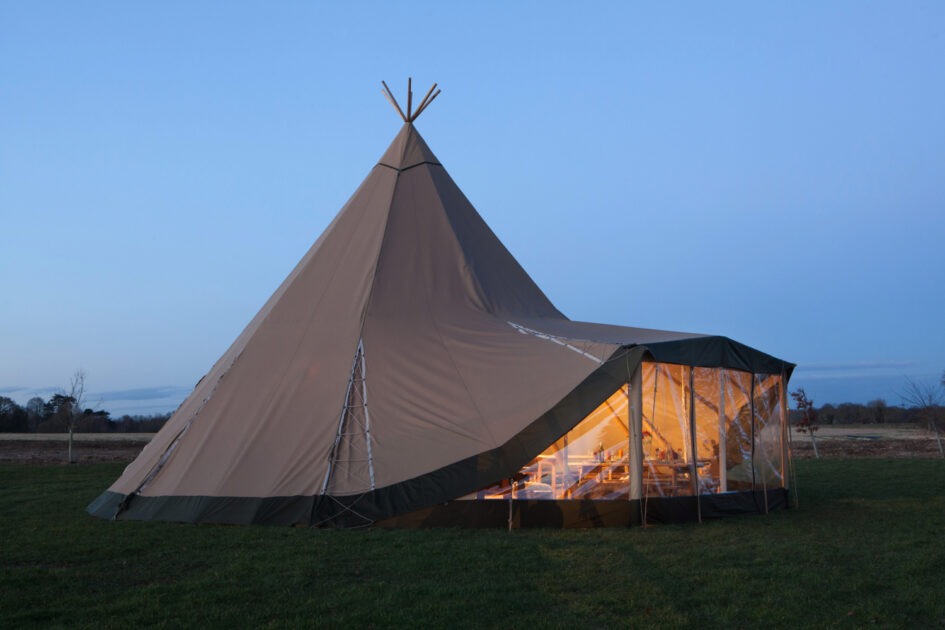 Pagoda - Chinese Hat
A smaller option in our range, the Pagoda / Chinese Hat marquee is a simple addition to your event. Perfect for creating dedicated chill out areas for your guests, it can sit independently from other coverings. The Clearspan Frame construction allows it to be hugely flexible. The marquee can be constructed on almost any surface and secured using a range of different option. The absence of centre poles or guy ropes minimises the space needed for set-up and also frees up all internal space for your own interior design. To stay in keeping with the rest of your event, Pagoda or Chinese Hat marquees feature the same roof mirrored shape of a traditional marquee. This allows them to blend in with their surroundings while further expanding the available space for guests. Inside, they can be used both with or without lining, depending on your specifications and can be styled to fit in with other outdoor marquees. Perfect for weddings, corporate events or parties, these marquees are an ideal location for a children's soft play, a calm relaxation area or a roulette table, among many other options. No matter your location or the space you have available, a Pagoda or Chinese Hat marquee could be the ideal solution.
Sizes available: 3m x 3m, 4.5m x 4.5m or 6m x 6m
Can be joined together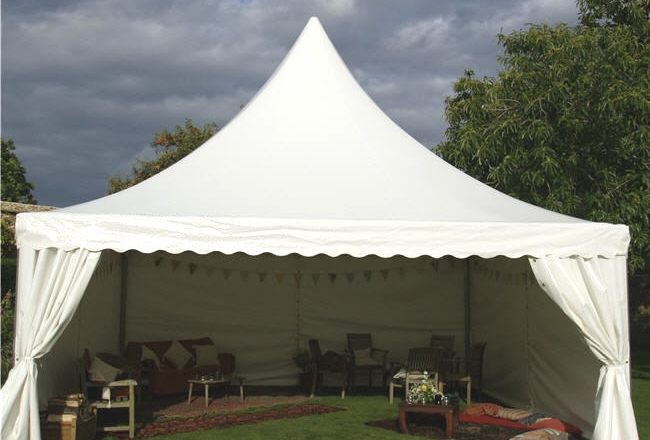 Bell Tent
If you're looking to keep your guests on site over an entire weekend, consider our Bell Tent. Perfect for children's areas or glamping sites, these compact tents provide ample coverage for sleeping and entertaining. The pointed hat silhouette sits well within all settings, fitting in particularly well in festivals or camping-themed wedding celebrations. Inside, they provide a large and spacious area which can be used to create a home-away-from-home with a few sleeping bags, hired furniture and even a dining area. Our bell tents are easy to install and will be set up entirely by our friendly and expert team. The compact dimensions allow them to be set up individually or alongside tents of a similar style. Each one is constructed from strong and durable material which ensures the guest's safety and comfort throughout the night. In the morning, large sweeping doors can be opened up to allow access and bring the beauty of nature into their sleeping quarters. If you're considering an overnight corporate event, an extended wedding celebration or a music festival for hundreds, these tents are a viable option. Alternatively, use them to create a children's playing area for family events where the little ones can enjoy themselves in peace and safety.