When your plans are hanging on a cliffs edge, you need company you can trust to get the job done
Here at South West Marquees, our experienced teams know how to approach complex and unique project locations. We pride ourselves on an unrivalled ability to rise to any challenge. No matter how difficult a site appears, we work hard to find the most appropriate solution for every client.
Matt and Ashleigh initially contacted us in November 2018 when planning their dream wedding marquee. The project requirements included a marquee to seat 75 guests situated on Matt's parent's garden in Seaton. The picturesque location overlooked Seaton Beach and had been somewhat of a dream setting for the couple for many years. However, the garden presented a significant problem for the couple – there was only limited ground situated at the top which would prove suitable for marquee pitching.
Matt had discussed the issue with his father and asked about the possibility of erecting a scaffold platform. This would stretch from the flat area of the garden and out over the slope. His goal was to extend the usable space and make it suit their visions.
However, after contacting a number of marquee companies, he was told this could not be done. This is how our conversation started when Matt decided to look further afield to find a company that could achieve this.
Understanding the complex challenge this location presented, we worked closely with both Matt and his father to devise a safe plan that would work and allow the couple to marry alongside the English coastline.
Matt set about hiring a local scaffolding company who were equipped to professionally erect a base suitable for the marquee we would provide. However, the main concern was timing. The scaffold base could not be erected until 2 days before we were due to build. This left no leeway in time, should an issue arise. However, we decided to proceed with faith in our expertise and talented team.
On 8th August 2019, we received word that the scaffold erection was in process and the job was running on schedule. Which was brilliant – until we looked at the weather forecast. For the next 4 days, heavy rain and strong winds between 60-80mph had been predicted. This isn't an ideal environment at the best of times, let alone when building a marquee on scaffolding over a cliff.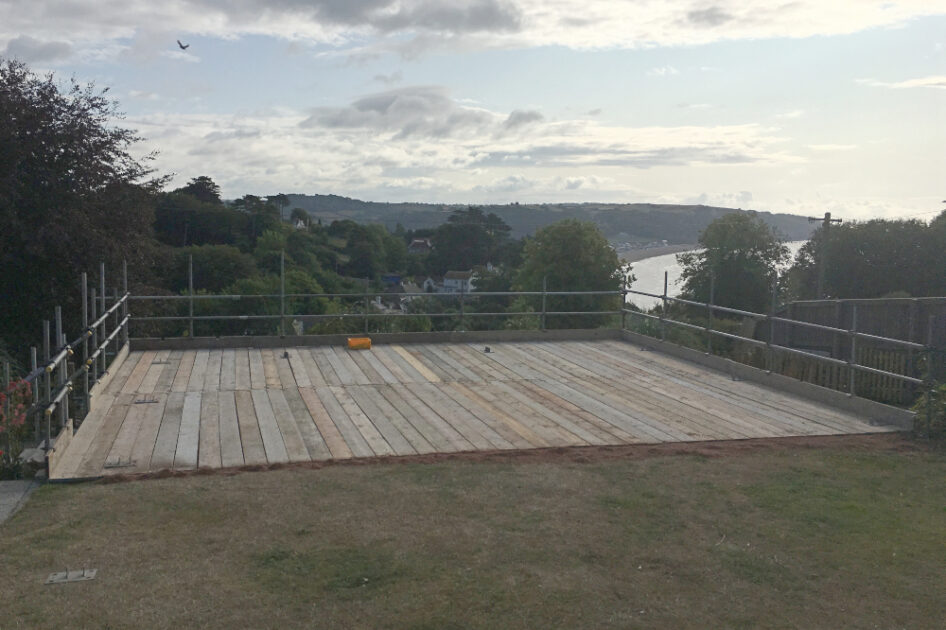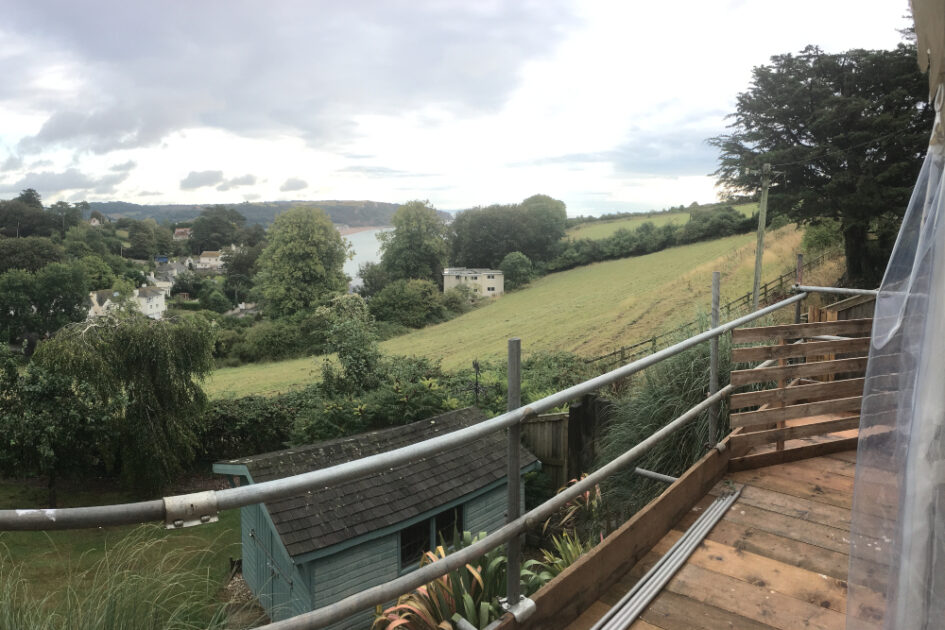 The South West Marquee team left the yard bright and early on 10th August, fully prepared to battle the elements. We arrived on site around 09:30 am and were greeted by Matt and his father. They had been hard at work levelling out the grounds and meticulously filling in gaps between the scaffold and grass. This partnership between us and our client ensured the project ran much more smoothly – it's always nice to work with clients who are keen to get involved.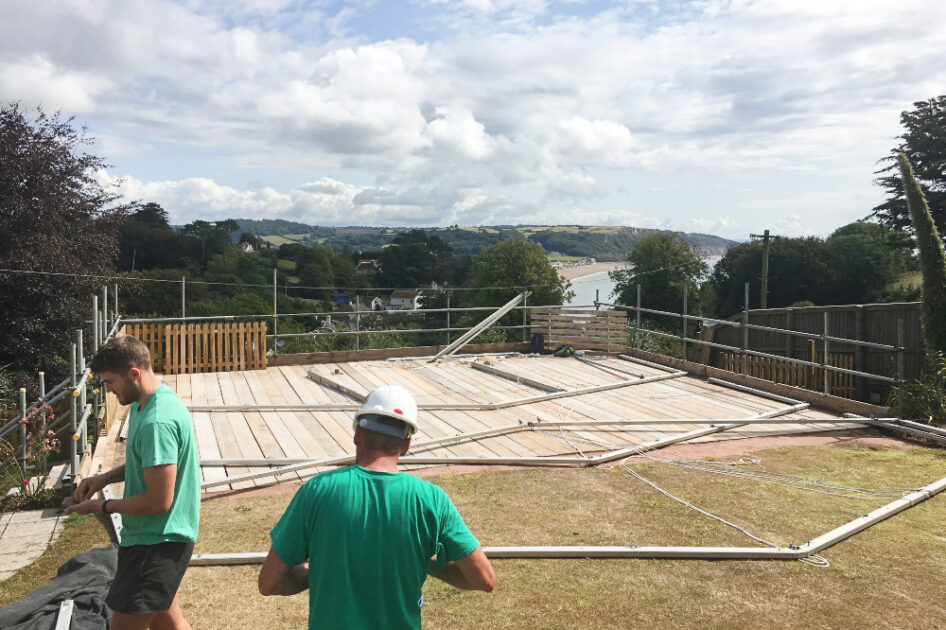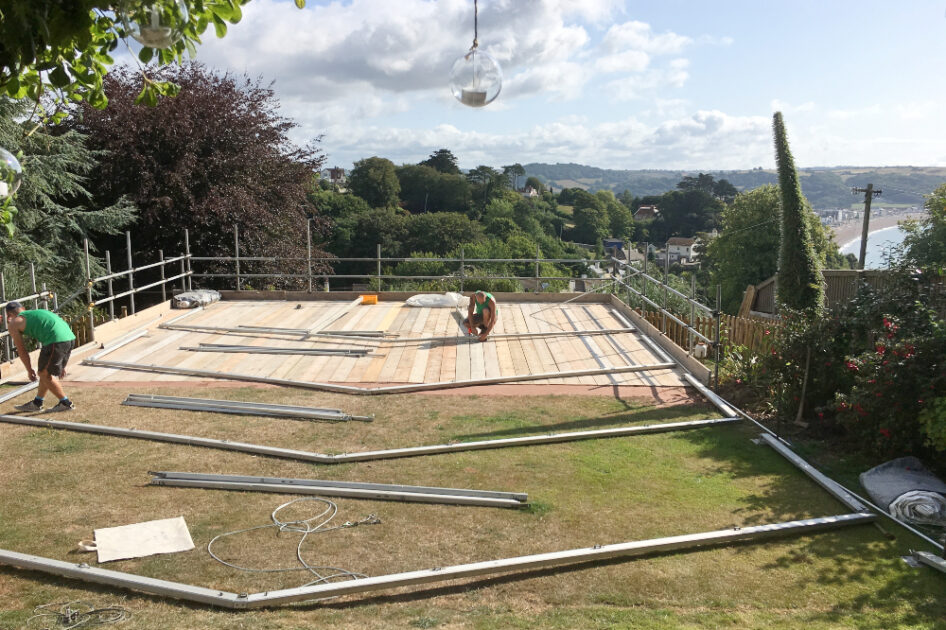 During the build, we needed to move a telephone line that crosses the centre of the decking at head height. Here, we needed to raise the line by approximately 5 meters. We also realised, during the build, that we would have to find an alternative way of securing the marquee. This was due to both the high winds but also the extremely soft ground. Also, our normal securing methods would have obstructed the beautiful scenery with large ratchet straps and anchors. It was only through the expertise and experience of our on-site team that we were able to devise a unique way of securing the marquee to the scaffold and then directly to the ground. This was done carefully around the parameter, so as not to cover paths, walkways or obstruct the view. Equally, the entire project was made considerably more enjoyable with a steady stream of cold drinks, coffee and cake throughout the day.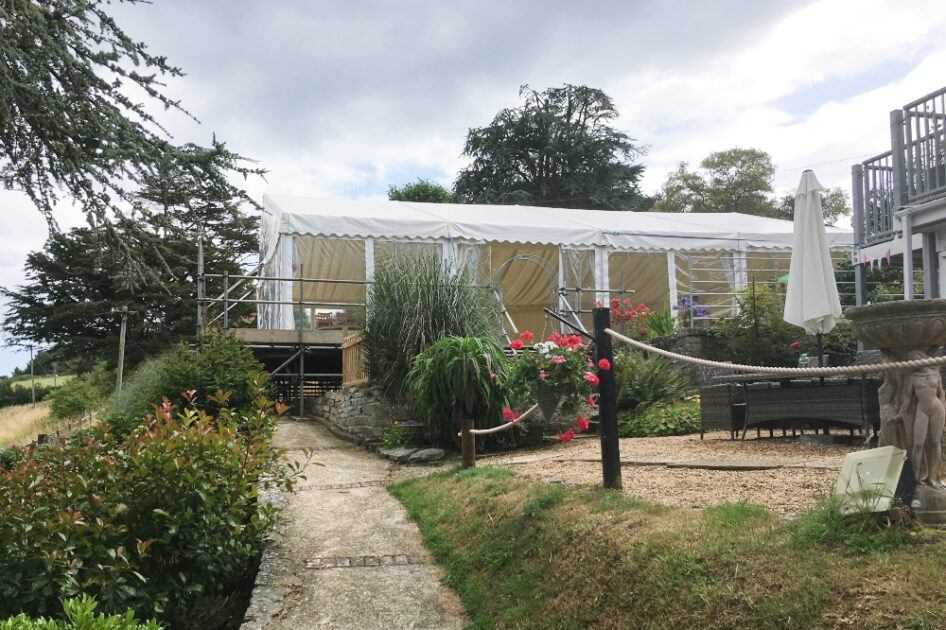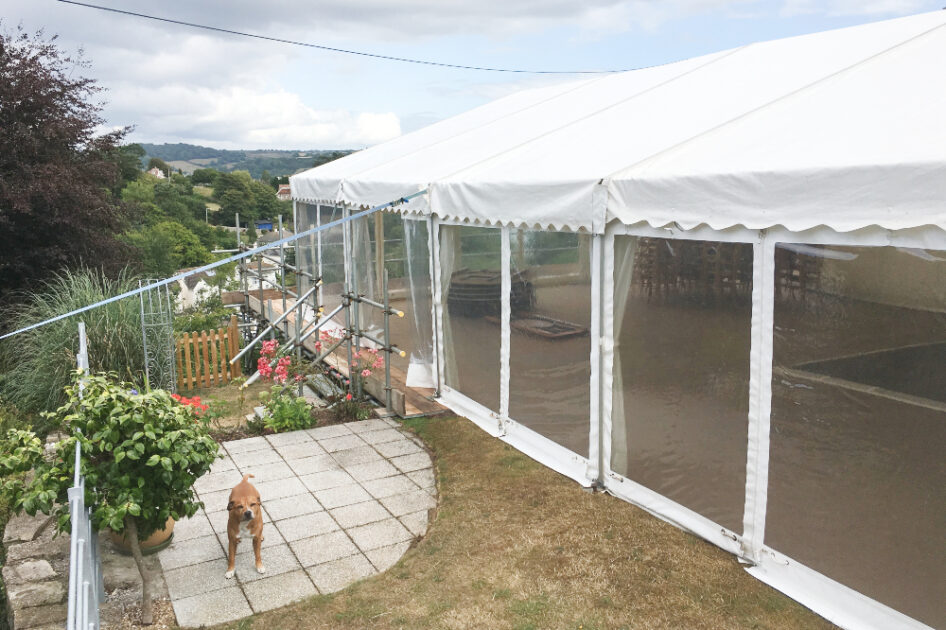 By the time our team left, we had erected the perfect marquee which still offered those picturesque views over the beach that our couple had dreamed of.
'"I would recommend South West Marquess, wholeheartedly. Our wedding was in my parent's garden, a sloping site that had to be built up using a scaffold deck. They really went above and beyond to rise to the challenge. The marquee set up was immense; the team were very professional and were not fazed by the challenge in front of them. Believe me when I say they were paramount in making our day happen where we wanted it to when so many other companies surrendered at the first hurdle" – Matt and Ashleigh.
A special thank you to Matt and Ashley for allowing us to be a part of their special day and for being so hospitable during both set-up and takedown.