So, you've decided on a marquee wedding for 2023. Congratulations! Marquees are an excellent choice of venue, for many reasons, but a big one is that they act as the perfect blank canvas for your choice of décor.
But what kind of wedding decorations should you choose? Let's look ahead at some of the best décor options for 2023.
Wedding Arches
Decorative arches are currently a popular choice, used as backdrops when couples to say "I do". But they also make ideal backgrounds for all guests and those important photo opportunities.
Arches can be decorated in just about any way themselves. Floral designs are a common choice, as are balloons (in just about every colour scheme you can think of), but you can be as creative as you like. It can be a standout feature for your wedding décor and fit in with so many themes.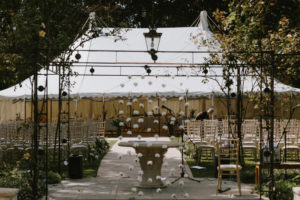 Rustic Décor
The rustic wedding trend isn't going anywhere soon – And let's face it, rustic décor is an ideal aesthetic for a marquee wedding, especially in countryside locations.
We particularly love wooden furnishings, such as wooden barrels to use as tables, rustic bars with overhanging Edison lights and apple crates to use as attractive storage boxes or to showcase decorative items, like photographs and memorabilia.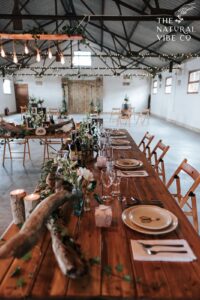 Ribbons & Lanterns
Instead of bunting, why not consider something different for the finishing touches? Using decorative hanging ribbons or paper streamers is a growing trend – Like balloons, ribbons can be selected to suit any colour scheme and the options are endless for where to hang them.
We also see Chinese lanterns used in marquee weddings, hung from the ceilings in bulk. Both of these are uplifting and add a sense of fun to the day.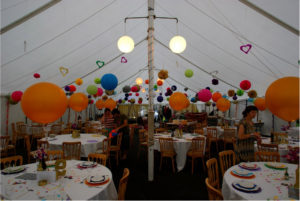 Flowers & Foliage
Florals have always been popular for adorning marquees, but right now it seems the more foliage the better. (Artificial can look just as good, and is a much cheaper option, depending on your budget!)
Ivy is a popular choice for trailing along the walls or ceilings of the marquee, and meandering across tables too. But just about any floral or plant décor has the potential to look amazing.
Flower arrangements are perfect for wedding arches (as mentioned above), and we've seen everything from artistically placed tree branches to faux wisteria hanging from the ceiling – It all depend on your taste.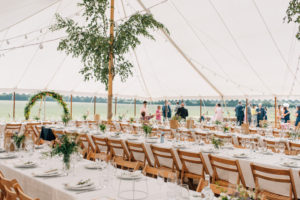 Hopefully this has provided you with some decoration inspiration. We love to see how every wedding couple choose to adorn our marquees.