The moment you look into your partner's eyes, just before you say 'I do' should be the moment you remember for a lifetime. Everything should be as you pictured, even down the details you might not have considered, including the right lighting. The right lighting will add a layer of décor that will only enhance your wedding day experience. Here are our tips on how different types of marquee lighting would work best for your special day.
The right lighting
The right lighting will transform your marquee from a simple tent, into what feels like a romantic bubble. The lights only add to your day and make it feel like you and your loved ones are separate from the world. Here are some of our favourite lighting options.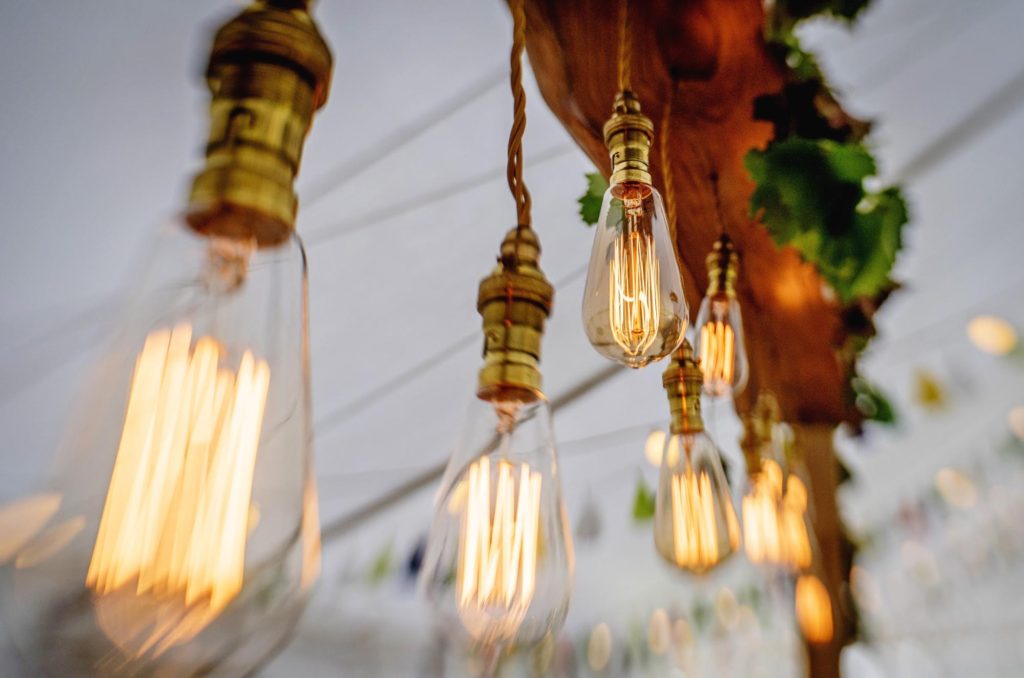 Festoon lighting
Now our most popular lighting design, our warm lights strung throughout the marquee create a cosy and intimate atmosphere, with a touch of vintage charm. Because they are stretched throughout the roof there are no dark corners. We can install them so they can be isolated over the dance floor to accent disco lighting when the dancing starts.
Chandeliers
Hanging from the canopy ridge could be a beautiful 12 arm chandelier, which adds an elegant atmosphere to your special day. If you are looking for bold lighting that sways towards a centrepiece, rather than a way to light up the room, a chandelier might be what you are after. Plus, chandeliers remind us of royalty and prince and princesses, so if you visualise your wedding day as a fairy-tale, a chandelier would add to this theme. Our crystal chandeliers create a real centerpiece reminiscent of a ballroom.
Starlight lighting
Bring the wonders of the night sky indoors without fetching the cold in with twinkling starlight's. Starlight lighting is a romantic way to add ambience to your wedding, it would also work as subtle lighting for your first dance. We can supply either black or ivory. The ivory has the advantage of being invisible during the day, then coming to light in the evening.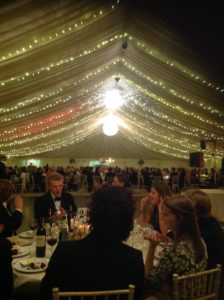 Outside lighting
In recent years we have really expanded our outdoor options, the Maypole festoon canopy, where strings of warm lights are draped from a maypole to the edge of the marquee has been a really popular addition. Lighting over the roof of our traditional marquees remains a great option. When you think about lighting for your wedding, you might be focusing on how lighting can add to your theme, like the lighting we mentioned above, but you should also consider practical lighting. Whether it is for a designated smoking area or to light up the car park, our outdoor lighting will illuminate these areas. Our outside lighting aims to add to the image of the wedding, not take away, so we have a range of string lights for trees or uplighters for garden features.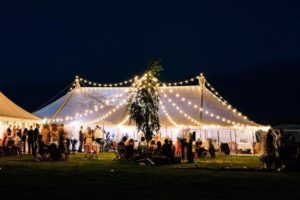 It is your day
The right lighting can add to your special day and with so many options to choose from, we are sure you can hire the lighting that fits both your theme and practical needs.
Light up your wedding day in a spectacular fashion with our marquee lighting solutions.
We have only just touched on the lighting solutions we have that can be used indoor and outdoor. Check out our full range here.